WELCOME!
Sherry and I welcome you to our main, "Flagship" website which shares my artistic and spiritual insights related to art, imagination and life.  Thanks to God, my wife, and the kind people in all 50 states and over 60 countries who have purchased my art, I haven't had a "real" job since 1978, when Sherry and I first started our fine art business in Woodville, TX! We got down to $40 in the bank, before our art business took off. I was 27 years old at the time.  I turned 60 in December of 2011. God has blessed us.

On this website you will find my art, my creative process and my personal philosophy. There is a plethora of creative expressions to see.  You can also find God on this website; if you look.

My artistic work includes drawings, paintings, sculpture, memorials, jewelry and a high quality line of functional art gifts, all of which needs a good home! You will also see my photography, graphic design, writing, architecture and early work.

Good art transcends generations. It remains valuable long after the latest fade or gadget leaves the scene.  Historically, cultures are judged by their art. We can't take anything with us when we depart this world, but we can leave meaningful art behind. Good art can provide intellectual stimulation, beauty, pleasure, joy, peace and even spiritual enlightenment. You won't get that from your stock certificate or microwave oven!

Personally, I believe the greatest creative accomplishments of mankind were actually inspired by God.  This applies to all the arts, and other forms of creativity and invention. Because God made us in His image, He gave us the talent, imagination and the skill to create. However, it is our choice what we do with His gifts.

Good art is not about price, size, medium or style. It is about creativity, imagination and the skill needed to execute a high quality design. For example, my art creations range in price from $4 to over a million dollars, and measures 3/4" to 77'7" in size. The creativity needed to produce a good piece of jewelry is the same as required to produce a monumental sculpture, painting or piece of architecture.

God made me an artist from birth, in 1951.  This is my DNA and my destiny.  As a result, imagination comes out of me in many forms. My early creative efforts included drawings, paintings, sculptures, graphic design, photography, architecture, taxidermy and creative writing.  I published my first article in a national magazine during my senior year in high school, the same year I met Sherry.

By the grace of God, I had great parents, grandparents, friends, teachers, mentors and a wife who supported me. I was encouraged to "follow my heart" and use my artistic gifts, without any limitation.  I did not know until architecture school at Texas A&M University that it was very unusual to be proficient in many creative fields. Most artists specialize in a certain field their entire life. I could not do this.
As a result, our lives have been a creative adventure. Consider for example our unusual passive solar, earth-sheltered studio/home, which I designed between 1980 and 1999. It has two full size trees, a waterfall, and numerous architectural murals. (Click here, if you would like to see a "Virtual Tour" of our ranch and home, which is not open to the public.)

Over the years, my art has included realism, impressionism, expressionism, surrealism, pop art and abstraction, not to mention some pretty creative "kitsch" taxidermy!  My two dimensional art mediums are oil, acrylic, watercolor, charcoal, pen and ink.  My sculptural mediums include gold, silver, bronze, brass, copper, steel, pewter, zinc and resin.  No matter the size, medium or price, my goal has always been to create meaningful artwork of exceptional quality.

Finally, as Sherry and I enter the last stage of our lives, we have learned what is important. It is giving to others, obeying God and living out our destiny. And, it is about helping others achieve their God-given destiny. I heard a quote attributed to Bill Gates.  He said it is not how much you make in this life, but how much you give away that counts.  He is right.

I also believe God has given Sherry and me one more major assignment in our lives: To establish free Sculpture Prayer Gardens across the world, to bring glory and souls to Jesus Christ.  There is no greater gift than eternal life in heaven. It is our desire to leave a path to God that others can follow. (Click here to learn more about the one true God.)

In the prophetic word given to us on 12/9/01 by Dr. Mahesh Chavda, he said that God would be sending others to help us build these "last days" Garden Tabernacles for Jesus. Would you prayerfully consider joining us in this effort? God bless you and thanks for purchasing my art and sharing it with others!

Click here for more information on
The Coming King Foundation.
"I can tell you that Max Greiner Jr. is a
volcano of imagination. I make this observation with reference to hundreds of design students I have seen over sixteen years. If there were a scale of physical and mental energy output, Max could be used as the standard by which others are measured."
Alan L. Stacell (1976)
Architecture Department Head
College of Environmental Design
Texas A&M University
"Max has the most fertile imagination
I have ever run across, bar none. He is refreshingly frank, honest and
unencumbered with game playing."
Rodney C. Hill (1976)
Architecture Professor
College of Environmental Design
Texas A&M University
"I have been an avid collector of quality wildlife art for over 30 years, my collection represents some of the finest artists of our time. I believe the pieces I have by Max Greiner Jr. rank amongst the best of my grouping and I recommend his art to any serious collector."
Doug Kittredge (1986)
Kittredge Bow Hut
Senior Member,
Pope & Young Club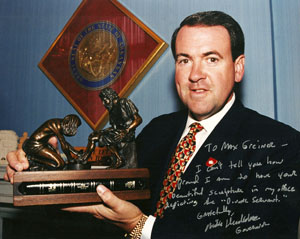 "I can't tell you how proud I am to have your beautiful sculpture in my office depicting the "Divine Servant"®.
Governor Mike Huckabee (1997)
Little Rock, Arkansas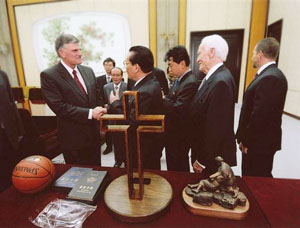 Dr. Billy Graham received the "Divine Servant"® Bronze in 1991 and his son,
Franklin gave "The Empty Cross"™ to the government of North Korea in 2008, to
open the country for Jesus Christ.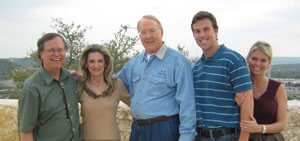 Dr. James Dobson, founder of Focus On The Family prayed on 4/5/08 with Max & Sherry Greiner for the success of The Coming King Sculpture Prayer Garden in Kerrville, TX. The Greiner's daughter, Diana Shay and husband, Justin Evans joined the prayer.



"Your skill is incredible! I praise our great God and Savior, that He has given you this marvelous gift, and that you are using it to His glory. Praise God for what you and your marvelous ministry are doing!"
Dr. Bill Bright (2002)
Campus Crusade For Christ



"God broke the mold when He made Max Greiner!"
Dr. Henry Blackaby (2003)
Home Mission Board
Southern Baptist Convention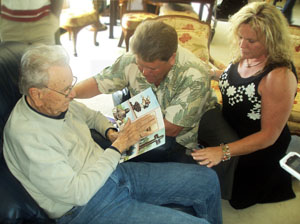 On 8/25/09, shortly before his death, Dr. Oral Roberts received "The Coming King"© 1/6 life-size sculpture from Dr. Tim and Cherrie' Peterson, pastors of Christian Family Church in Owatonna, MN. Robertson prayed with them for the fulfillment of the evangelistic Sculpture Prayer Garden vision.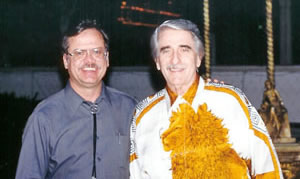 On 5/9/2001, the first life-size (105%)
"The Coming King"® monumental bronze sculpture was installed at the TBN Studios in Costa Mesa, CA. Dr. Crouch did two international TV shows on the sculpture
and prayed for the artist/evangelist.