The night before the "Glory Dust" formed in the Greiner's downstairs bathroom, longtime family friend, Jim Beard, of College Station , TX had called Max. After not speaking with each other for many months, Jim felt God prompt him to call Max. He sensed the Greiner family was under some kind of serious spiritual attack.
Over the years, Jim had been used by God repeatedly, since 1978, to minister God's love, truth and power to the Greiners, in their times of need. In the conversation, he told Max that at 3:00AM the previous morning, God woke him up and said he had to go minister to the Greiners. Obediently, Jim notified his wife, Darlynne and his Sunday school class that he would not be able to teach on Sunday, because God wanted him to drive to Kerrville , hundreds of miles away to minister to his friends.
Jim heard God's voice correctly. At the very moment Jim called at 9:30 PM, on Saturday night, March 6th, Max had been desperately praying in the dark for 20 minutes. He was praying for his wife, Sherry, their strained marriage and teenage daughter, Diana Shay. Max had cried out to God in his prayer: "I give up, I can't fix it, and I don't even know how to pray!" Both Sherry and Diana Shay had been experiencing strange, unexplainable physical and emotional symptoms, which medical doctors were not able to fully explain, or treat. Doctor's thought that Diana Shay might have Lupus, and chronic fatigue, and that Sherry was in depression. At the end of himself, Max had run out of words to pray. So, instead of praying more prayers in English, he asked the Holy Spirit to pray through him in "tongues", a special language (1 Cor. 12) God had given to Max back in July of 1989. (Click here to learn about this supernatural Gift, and others that God gives to His children, who are willing.)
At that exact moment, in the middle of Max's cries to God, Jim Beard called, having already been told by God that the Greiners were in the middle of a spiritual battle. Max reassured Jim he was correct in his assessment, and that they badly needed the supernatural intervention of God. Jim prayed for the Greiners over the phone, and then offered to make the long five-hour drive to Kerrville , to minister to the family, in person. Max welcomed the offer.
Then, as the friends were ending the call, the Holy Spirit prompted Jim to mention something very strange that had just happened to his wife, Darlynne. She had recently witnessed a wonderful miracle, along with hundreds of ladies, at a women's Christian retreat in Houston , TX , that previous weekend. Jim went on to tell Max how the visible glory of God appeared on the lady speaker, as hundreds of ladies watched! Darlynne said that the sparkling substance began to move across the crowd, and started covering all the ladies, their clothing, purses and Bibles, as the name of Jesus Christ was honored! Everyone witnessed supernatural golden dust form in front of their eyes, as the speaker, a Pentecostal lady, spoke about Jesus and the Holy Spirit. Jim mentioned the lady's name, but she was a total stranger to Max. He said she was a heavy-set Pentecostal lady from Virginia , probably in her seventies, named Ruth Ward Heflin.
After hearing Jim's unbelievable testimony of the visible glory of God, Max said: "Jim, I am having a real hard time believing what you are saying is true." Jim responded back by saying he had the same problem, until Darlynne showed him her sparkling clothes and Bible that were covered with golden dust particles from the meeting. Max answered: "Jim, I am glad you and Darlynne are getting gold dust from heaven in College Station, but we have demons here in Kerrville! How fast can you get here?" Jim arrived in Kerrville the next day, March 7, 1999.However, while waiting for Jim to arrive, Max prayed again in his unfinished bathroom "Prayer Closet", for God to help his family. As Max opened his eyes, he noticed something sparkling on the floor in front of him. First, there was one sparkle, then two, and then three! He immediately began to ask God if this could possibly be the supernatural golden dust that Jim had mentioned!
Finally, Max could stand it no longer and ran upstairs to tell Sherry and Shay of the incredible miracle that was happening in their downstairs bathroom, at that very moment! Max's wife and daughter came running down the stairs to see the glitter like substance, which had already increased in number by that time. More particles began to form on the bathroom floor in front of their eyes! The tiny sparking particles were forming everywhere on the floor, as they watched!
Diana Shay was the first to notice that the golden particles were also starting to cover the sink counter. Then, as the Greiners stared in astonishment, the walls, doorframe and door began to be covered with the golden, glitter-like dust! Dozens of fine sparking particles began to cover the different surfaces of the room, as the Greiners praised God in amazement. Max got out a pencil and began to circle the individual particles, as they formed on the white wall. However, he soon realized he could not keep up, as dozens of particles turned into hundreds and eventually thousands!
The Greiners were filled with awe and joy, having personally witnessed an amazing, visible manifestation of the Holy Spirit. They were convinced it was a supernatural manifestation of God because it appeared as they praised Jesus Christ. It also matched the description given by Jim Beard, and the description given by Moses, in the Bible (Ex. 34: 29 –35). The scripture says a sparkling substance formed on Moses when he came down from Mount Sinai , with the Ten Commandments, which thousand of Jews saw with their own eyes! The scriptural explanation of the "Shekinah Glory" in this passage, and others, matched exactly what the Greiners were seeing!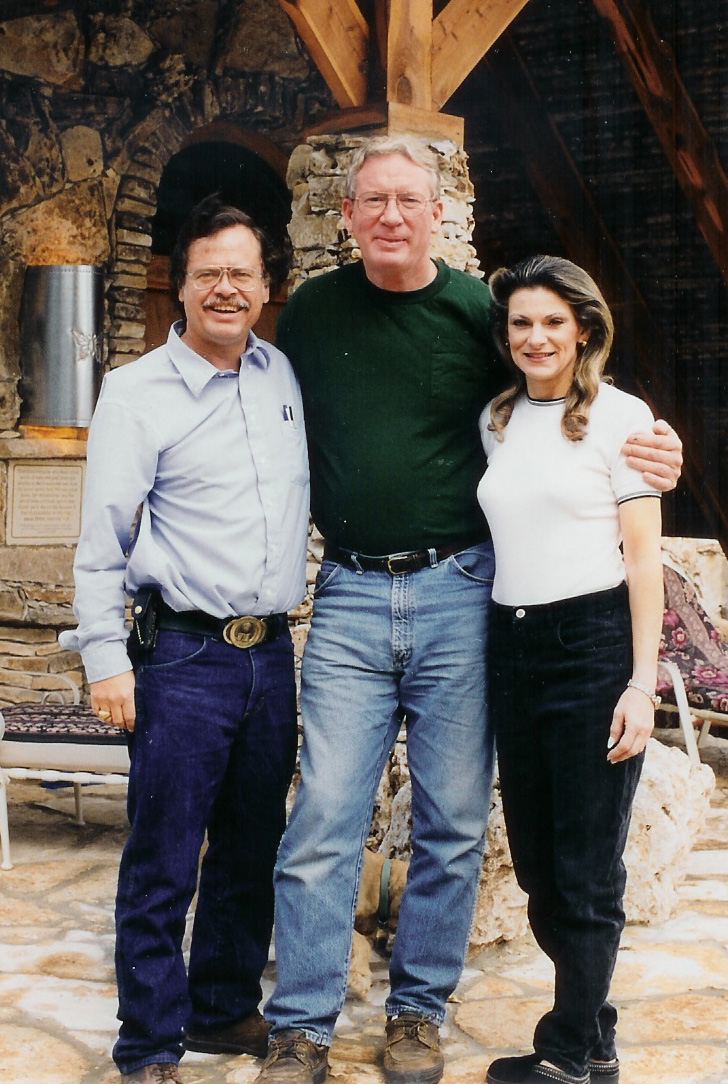 Jim arrived in Kerrville about 1:30 PM. He found that joy and excitement had replaced the discouragement and hopelessness of only a few hours before. The Greiners excitedly witnessed to Jim about the golden "Glory Dust" that was forming in their bathroom.
Back at the ranch, they showed Jim the sparkling evidence, in the downstairs bathroom, and he agreed with their assessment that it was the strange sparkling substance from God. Later that afternoon, as Jim prayed for Sherry in the living room, the golden dust particles began to form around them, on the couch and the floor.
The power of God had manifested in an incredible way that Sunday at the Greiner home, and the amazing miracle has continued everyday since. The supernatural "Glory Dust" now appears daily on the Greiners, their skin and clothing, pets, cars, desks and computers. It has also appeared on thousands of other people, as they prayed or witnessed about the modern day miracles of Jesus. They would later learn that this amazing, "last days sign and wonder" was happening around the world to other Christians, as Jesus Christ was lifted up!
Click here for more information on the "Shekinah Glory Dust Miracle."